At some point, homeowners may decide that they need a bit of extra room in their house but extensions aren't the only way to achieve this. Conservatories are an excellent way to expand your home while bringing masses of light in and making spaces feel bigger. Granted, they can't be used for all types of rooms in the home but for the majority of them, it can work beautifully.
Both of these options have their advantages and disadvantages so in this article we will compare both, giving you a better understanding of which is right for you.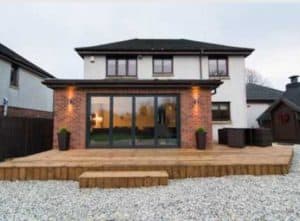 Do You Need Planning Permission?
Conservatories are not like they used to be where it was just a glass building attached to the house. Now Conservatories can have roofs and heating so these buildings can be used all year round. However, this has made it harder to differentiate between a conservatory and an extension. With an extension, you will need planning permission to build, this can sometimes be complicated and annoying to go through. With a conservatory, on the other hand, this can sometimes be avoided. Take a look at Planning Portals planning permission guide to find out about the guidelines around building a conservatory with no planning permission.
What Is The Purpose Of The Room?
Obviously you are extending your house for a particular reason, whether it is because your dining room is too small or you need an extra bedroom. The good thing about extensions is they can be made into any type of room for the house, however, with a conservatory you don't have that much freedom. these are certain rooms in the home that we recommend having a conservatory in.
Dining Room

Living Room

Office Space

Children's Play Room
If you were wanting to turn your conservatory into something like a bedroom, bathroom or kitchen, it is not impossible and just needs to be built in the correct way. Utilising materials like the guardian warm roof can really help, this ensures you have a solid roof over your head keeping the area warm in winter and cooler in summer. As well as this, the solid roof reduces the amount of sunlight coming in so with the right blackout blinds this could easily become a bedroom.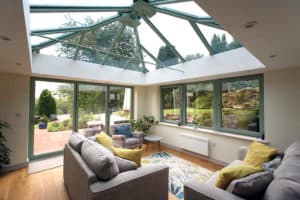 Are They Expensive?
When building a conservatory, the price is dependent on how big and complex you want it, whereas an extension is changed per square metre. Even though extensions are typically more expensive to build, the money you spend on it now will benefit you when it is time to sell. On average if you build a conservatory well it could typically add on an extra 4% to 7% value to your home. An extension, on the other hand, could increase the value by as much as 8% to 11%. These features are a unique selling point to the home and won't be a waste of money even if they are expensive to build.
Will This Affect My Council Tax?
If a structure is built as an extra living quarter it will require its own council tax even if it shares facilities with the main property. Usually, when you are building a conservatory it doesn't require council tax but this usually depends on what facilities your conservatory has. However, it is always good to check with your council before its too late and it has already been built. 
Contact Us Today
Both of these facilities are excellent options but if you have decided that a conservatory is a right choice for you then contact Monmouthshire Conservatory Company today on 01989 730551 or by using our online contact form to find out more about how you can get yourself a custom-designed conservatory with 10 years of insurance.