Now that the winter weather has fully settled in you have probably been thinking about your energy bills for a while now.  Without a doubt, juggling the increased heating costs with the much-needed home warmth is a real challenge. Double glazed windows may be the solution to your problem as they offer many benefits including reduced bills and noise and enhanced resale value. They are made up of two layers of glass with a layer of inert glass sealed between them and once sealed, this becomes airtight.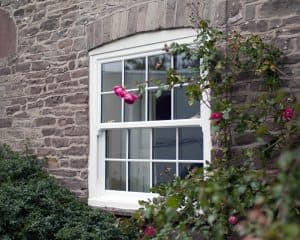 Save Money
Did you know that based on the average energy bills cost, reported by Ofgem, the average UK household spends approximately £665 per year heating their homes? If you live in a property with single glazed windows 20-25% of the heat you are paying for can be lost through them. Having A-rated double glazed windows installed can save the average household anywhere between £60 and £155 per year.
Provides Sound Insulation
For properties that are located on or near busy roads, double glazing can be a great way to reduce the outside noise by up to 60%  as these windows create an improved barrier between the inside of your home and the environment outside.
Significantly Reduce Condensation
Condensation is a problem that commonly occurs in older homes. It is a serious issue that can cause mould and mildew, and in certain cases even rot timber window frames and creating a  health hazard. It can also be forcing you to turn up your heating and ramping up your energy bills. This is because condensation on a warm surface causes droplets of water that freeze into frost making the room feel colder.
What double glazed windows will do is prevent condensation from entering your home by blocking moisture in the colder weather due to the air caught between the two glass panes and the airtight seal.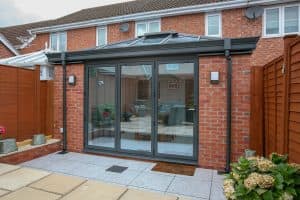 Increase Your Property's Value  Saleability
Selling a property can often be a difficult endeavour.  The best thing you can do to facilitate this process is making your house as appealing to the market as possible. Over three-quarters of homes now have double glazing and it is certainly a desirable aspect to potential home buyers. Energy efficiency is a top priority for house hunters and if someone is going to have to upgrade to double glazed windows as soon as they move in, they will likely factor this in when placing an offer.
Get In Touch
We pride ourselves on our customer-focused services which is why we offer a consultation with one of our designers before you make a definitive choice. Our windows are supplied in a variety of colours, styles and finishes available to suit all property types and periods. If you prefer to keep your old windows we are also able to provide a secondary glazing solution that will equally prevent drafts and high energy bills. To find out more about Monmouthshire Conservatory Company's double glazed window solutions, get in touch with a member of our team today on 01989 730551.